After building up a wide variety of Soma Wolverines for a wide variety of customers, we decided to offer complete Wolverines in three flavors. There's the Daily Grinder, the Gravelo, and the Weltgrinder Rohloff. If you guessed these are optimized for commuting, gravel, and touring, you're right.
The Wolverine is now available in a flat black as well as the orange. It's also now available in size 62, though at the moment quantities are very limited.
The Wolverine Daily Grinder, shown below, is a belt-drive, Alfine-8 commuter with hydraulic disc brakes. The semi-sweptback handlebars give you a moderately upright posture that make the ride sublime. It really is a different, calmer experience than riding the same bike with flat bars. (If you want flat bars, though, we won't "steer" you away.)
Below is Joe's personal Wolverine, featuring a triple crankset for trailer-towing duty, a complete dynamo system, Joe Bike Most Sexiest hammered copper fenders, a Soma porteur rack, Brooks saddle, and leather grips.
The  Wolverine Gravelo is our 29er gravel and adventure build featuring flaired drop bars or Jones Loop bars, high-volume tires, a 2×10 Tiagra or Apex drivetrain, and BB7 mechanical disc brakes.
Here's a Gravelo with Jones Loop handlebars.
The Wolverine Weltgrinder Rohloff
The Weltgrinder Rohloff is our continent-crosser. Featuring a Rohloff 14-speed hub, belt drive, Jones Loop bars, TRP HyRd hydromechanical disc brakes, front and rear heavy-duty racks, a SON Schmidt dynamo hub, a phone-charging Busch & Mueller Luxos U head light, and a Busch & Mueller tail light. (Note: the V2 version of the frame, which is what we carry, has received the Rohloff/Gates seal of approval.)
Want more examples? Okay.
Here find more narrative direct from Soma: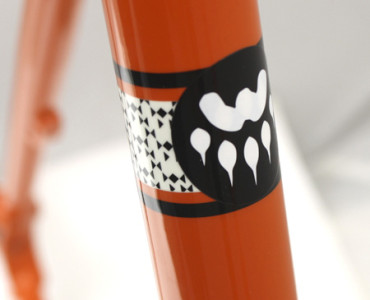 The original inspiration for the Wolverine was "monster cross", but it is seriously so much more. Its geometry is stable enough for off road touring, but sporty enough for all-around adventure. With its Tange/IRD Split Sliding Dropouts, you can turn it into a single-speed CX bike. Plus it is compatible with the Gates Carbon Drive.
– Tange Prestige heat-treated CrMo front triangle; butted CrMo rear end
– Clearance for 700x45c tires w/ fenders
– Rear hub spacing: 135mm
– Gates Carbon belt drive compatible
– Matching lugged flat crown fork Tange Infinity CrMo steel fork; double eyelets pannier rack and mini rack mounts (mini rack mounts not pictured)
– Braze-ons for rear rack and fenders (disc brake-compatible racks only)
– 1-1/8″ size headtube
– Sizes: 50, 52, 54, 56, 58cm,  60
– 4.79 lbs (frame); 2.3 lbs. (fork, uncut steerer)
– Color: Pumpkin Orange – Compatible with Paragon Machine Works replacement dropouts (Rohloff, Single Speed, Direct Mount, Thru Axle)